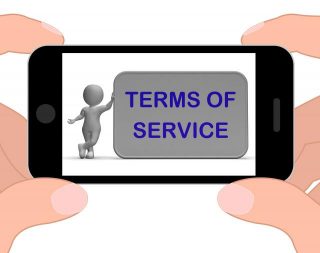 The Importance of Online Terms of Service Agreements in Contract Law
Online Terms of Service agreements (TOS) found in contracts must have the following elements to be considered legal and enforceable:
Parties to the contract must have the legal ability to enter a contract known as contractual capacity.
 A contract can only be used for transactions that are legal  and do not violate basic principles of society
Contract parties must show an intention to enter the contract with specific terms referred to as mutual assent. Mutual assent is demonstrated through the offer and acceptance process.
Additionally, a contract must demonstrate a principle known as meeting of the minds where the parties must agree to the terms of a contract, and the contracting parties must also bargain for something of value referred to as consideration (Grama, 2015, pg.316-322).
Online provider "terms of service" are considered contracts of adhesion. These type contracts usually benefit the online entity and do not allow an opportunity to negotiate the terms of the contract. These are known as "take it or leave it" contracts which give the offerer all bargaining power. These contracts are also known as "form" or "boilerplate" contracts. These type contracts may be considered undesirable but are sometimes necessary in e-commerce since it is not feasible for e-commerce merchants to negotiate the terms of every transaction separately (Grama, 2015, pg.332-333).
Kelly (n.d.) states that that every entity doing business on the Internet should have a comprehensive, well written Terms of Service (TOS) agreement posted or available on any website they conduct business or commerce from. Kelly (n.d.) further states that a TOS should have five components as follows:
If the website allows a user to create and access an account, the TOS must specify the terms associated with this.
If your site allows a client to submit user-generated content, then the TOS must make it clear that any derogatory, harassing, or other illegal content will not be tolerated.
When allowing users to submit their own content, the TOS must also inform them that such submissions automatically become property of the hosting entity. Additionally, the hosting entity has the right to modify, copy, distribute, and use their submissions as they see fit.
A provision concerning the use or dissemination of your copyrighted materials  to ensure a user does not copy an entities website as a whole, or sections, and reproduce it elsewhere.
A well written stipulation must be provided clarifying the hosting entities lack of liability. It must specify that any incidental or consequential damages incurred by the user, no matter how caused, are not the entities fault.
The news and discussion site reddit provides the following user agreement that follows the principles discussed by both Grama (2015) and Kelly (n.d.) as shown below.
"To participate on reddit, you must create an account that includes a user name and password ("Your Account") and, if you want to be able to reset your password or have us contact you, an email address as well."

reddit contains graphics, text, photographs, images, video, audio, software, code, website compilation, website "look and feel," and advertisements supplied by us or our licensors, which we call "reddit content." reddit content is protected by intellectual property laws including copyright and other proprietary rights of the United States and foreign countries.

You retain the rights to your copyrighted content or information that you submit to reddit ("user content") except as described below.

By submitting user content to reddit, you grant us a royalty-free, perpetual, irrevocable,  non-exclusive, unrestricted, worldwide license to reproduce, prepare derivative works,  distribute copies, perform, or publicly display your user content in any medium and for any purpose, including commercial purposes, and to authorize others to do so.

 You agree that you have the right to submit anything you post, and that your user content does not violate the copyright, trademark, trade secret or any other personal or proprietary right of any other party."

We take no responsibility for, we do not expressly or implicitly endorse, and we do not assume any liability for any user content submitted by you to reddit."
It was also noted that one of the first provisions that reddit provides in its user agreement is clarification of the contract between reddit and its users which states that the  "agreement is a legal contract between you and us. You acknowledge that you have read, understood, and agree to be bound by the terms of this agreement" (Reddit user agreement, 2016).
References
Grama, J. L. (2015). Legal issues in information security (2nd ed.). Boston, MA: Jones & Bartlett Learning.
Kelly, A. (n.d.). Crucial Elements of a Terms of Service Agreement. Retrieved June 8, 2016, from https://www.hg.org/article.asp?id=20466
Reddit user agreement. (2016, May 27). Reddit user agreement. Retrieved June 8, 2016, from https://www.reddit.com/wiki/useragreement